OUT OF PRINT 11/10/20

THE PLAGIARISM BOOK 2nd Edition
A manual of practice and explanation to help students,
high school through college, avoid plagiarism
ISBN 978-1-929463-02-2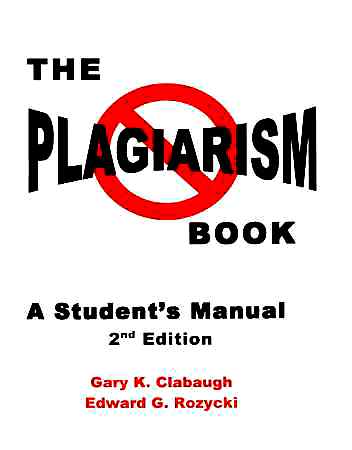 by Gary K. Clabaugh & Edward G. Rozycki
E-Book. 80 pages. Pdf.
THE PLAGIARISM BOOK 2nd Edition contains:
Examples of text rewrites with easy steps given to achieving them.
Clear, simple explanations of plagiarism.
Many self-instructing exercises and puzzles to help students develop various forms of paraphrase.
For more advanced students, chapters that demonstrate how to avoid other writing pitfalls while avoiding plagiarism. Also shown are methods to more greatly vary the style of rewriting done.
Scaling devices so that instructors in different fields can specify the level of text rewrite acceptable as paraphrase in their discipline
The materials in this book have been tested for ease of use on students from 9th grade through graduate school.
After working through the simple exercises in this book,
no student will have the excuse that he or she did not know
what plagiarism is or how to avoid it.
On the other hand, each student will be competent to rewrite texts
so that, properly cited, they are never plagiarisms.
CONTENTS:

Section I: Quick Fixes

Introduction
1 The Rewrite Game
2 Just What is Plagiarism?
3 It's Easy Not to Plagiarize
4 Examples of the Process


Section II: Transforms and Exercises: the basics

5 Deletion
6 Rearrangement
7 Active Voice <=> Passive Voice
8 Synonym Substitution

Section III: Other Useful Transforms with Exercises

9 Inversion of Clauses
10 Indirect Discourse
11 Splitting the Sentence
12 Using 's to Condense

Section IV: Expanding Your Skills

13 Notes on Change of Voice
14 Notes on Synonym Substitution: avoiding embellishment
15 More Transforms

Section V: Other Things You Should Know

17 The Art of Citation
18 Plagiarism and the WEB
19 Why Not Cheat? Prudential and Moral Concerns.

Appendix: "Measuring" Plagiarism
link to
PREVENTING PLAGIARISM & CHEATING
TO TOP