Sorting Out Philosophies Via Critical Questions: An Interrogatory
Edward G. Rozycki, Ed. D.
RETURN
edited 5/9/09
The chart below contrasts and compares different philosophical positions as they are commonly described. Critical questions provide an easy although superficial sorting device, a sort of "sieve". The questions are:
1. Authority: Who dares (has the right to) question?

2. Ontology: What (according to the philosophy under consideration) exists?

3. Epistemology: How do we know (i.e., what is the way of knowing anything)?

4. Axiology: What is (the nature) of value?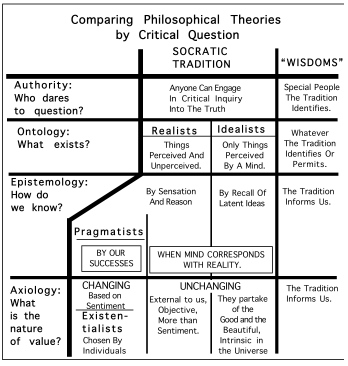 The simplicity of this chart is belied by the fact that many philosophical typologies are determined by historical rather than logical criteria. See "Teaching Philosophy to Teachers: are ISM's Philosophy?"